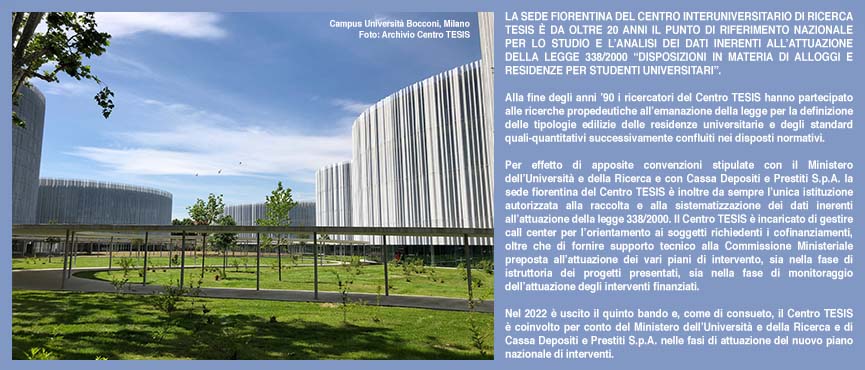 Hospital Outdoors: quality through users' experience
Senior housing e soluzioni innovative per gli over65
"L'Ospedale pediatrico"
La qualità dell'abitare a servizio del diritto allo studio
Un ospedale a misura di donna
30 anni di Opera Universitaria: verso il futuro
"Romano Del Nord. Teoria e prassi del progetto di architettura"
TEMP- | Temporaneità post-emergenza nei territori fragili italiani
Ricostruire la Sanità. Progetti per la ripresa a Milano e in Lombardia
Giornata di Studi "Residenze e servizi per studenti universitari" 15 ottobre 2021
Architecture Research Care and Health conference, ARCH22
Intervista ad Alessia Macchi
Intervista a Nicoletta Setola
CNETO Award 2019 - BEST RESEARCH PROJECT
Living the university - National budget for university residency.
AWARD
Award for the best Italian Student Residence Hall project funded by Law 338/2000.
DIDA - Palazzo Vegni, Florence, 14th - 16th March 2019
26 October 2018 - University of Rome 3